About Us
We are software engineers. We create mobile apps and web-services.
People download apps, browse websites and buy in any language. It is important to reach your clients with minimal efforts.
Easy setup and migration
Start with zero cost
Low maintenance
For small projects it always will be free
Get started in a few steps
Create your account
Add a project
Add languages
Import your existing localization files
Add team members, invite traslators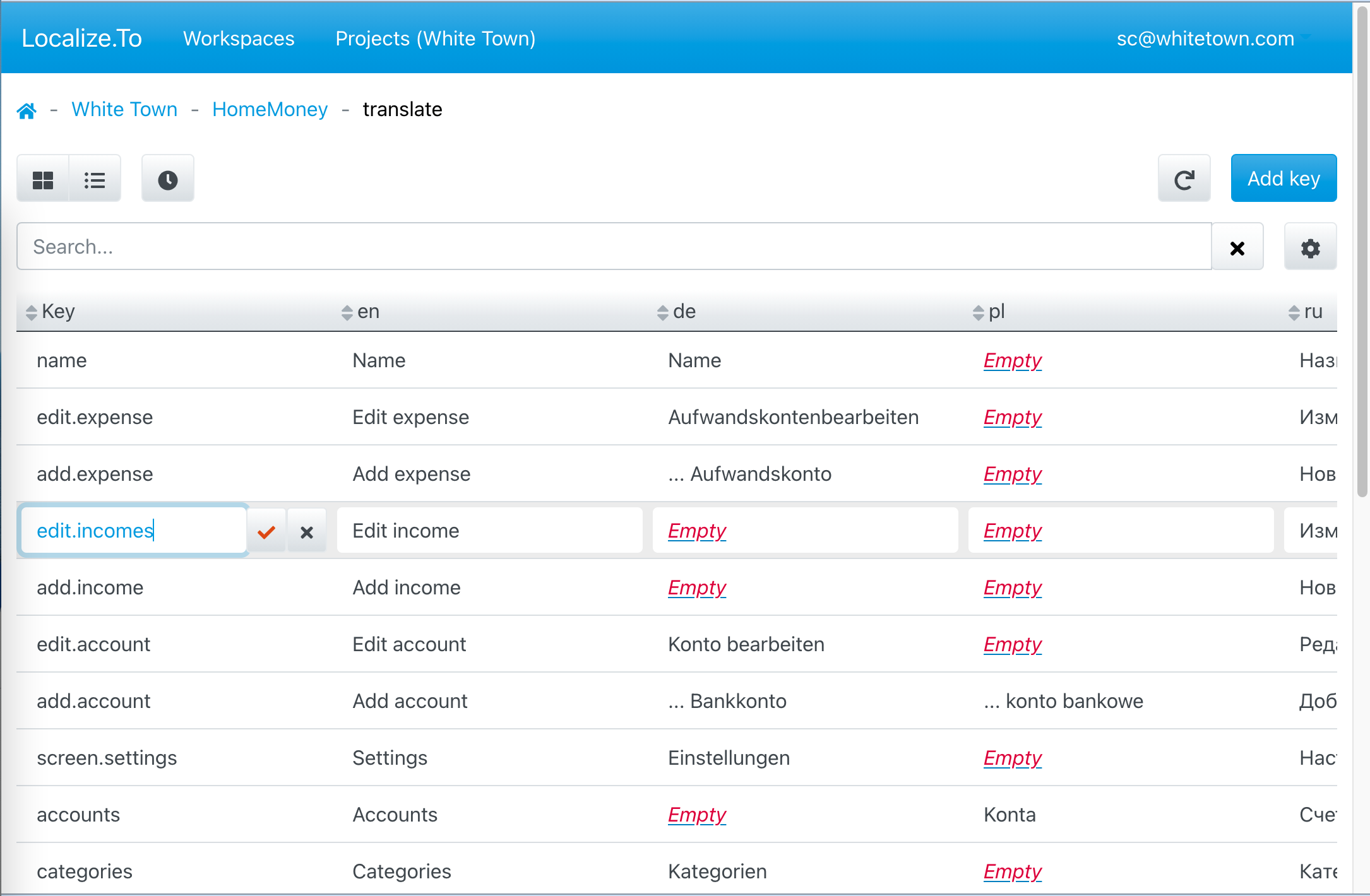 How does it work?
Don't let localization slow you down.
When you create either a mobile app or a website, add localization keys to our service.
Be focused on the development, let translators translate these phrases independently.
Work exclusively with a partner you trust, or combine translations from different teams.
Request localized strings from the service anytime. Do it interactively or automatically with a shell script or API
Use the same localized strings for iOS, Android, or Web. Let us export them in a desired format.
.
Pricing
#
Price
Unlimited projects
Free
Unlimited contributors
Free
Unlimited languages
Free
Unlimited exports within a month
Free
Web and/or API interface
Free
Export

We deduct one credit for each active project every month.

The project is considered active if you have exported data this month.

If you only edited localized strings or did not touch the project at all - it's free.

So, if you have ten projects but only one of them is under development - it will cost you only one credit at the end of the month.

Currently 1 credit is equal to 1 €
Frequently Asked Questions
Our service is compatible with any platform. Feel free to contact us if you did not find an answer to your question.
Contact
As we mentioned above, we are developers who create iOS and Android apps, web sites and services.
Feel free to contact us if you have ideas how to improve Localize.to, or if you need any kind of custom development.
Location:
Narcisova 38, Bratislava, 82101, Slovakia
Email:
support@localize.to